FRDCSA Paperless Office and Electronic Filing System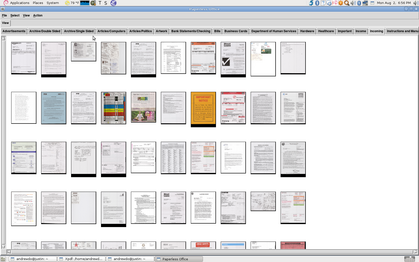 Video
Paperless Office is a completely free and open source software solution for document management and an electonic filing system. It was written because I needed a tool to effectively manage my paperwork that was fundamentally compatible with the rest of the FRDCSA tools. Collectively, these tools provide a total life management system - they are intended as a panacea. In fact, they are actually an attempt at a restricted form of weak artificial intelligence. So this includes all kinds of intelligence augmentation and intelligent agent support structures intended to finally solve common dilemmas. One such dilemma that I would imagine affects a lot of people, especially with disabilities, would be document management.
Suppose a situation comes up where you need a particular document, but you are not sure where you put it. If you already have a filing system, that is a great start - but now, do you manually read all the items to find this rare piece of information. Well, with full-text search capabilities this becomes much easier and less time consuming.
Or suppose you have a question, the answer for which may be found in one of your documents, but again, you are not sure which one. With the paperless office system, combined with state of the art FRDCSA and external question answering systems, you can simply ask the question of your computer. If these systems can find the answer, they will provide you it along with a justification.
What about important dates? Suppose you have a bill due on September 5th. But you are tired from work and haven't had a chance to go through. There are a lot of people in perfect control of their lives, but there are probably just as many or more who could use a little help. Well, Paperless Office has date extraction, which means that it automatically pulls out date references in your documents, and then puts them into a calendar. When the PSE system is working again, it will also notify you of upcoming dates that could be important. And when the document priority classifier is working, which uses language queues to determine a document's importance, it will be even better.
Also, how best to organize your filing cabinet? Should you use this filing system or that one. What if you need to index documents in a different way. The system allows multiple classification systems to coexist, and in the future will always index to the original document's physical location. The system also provides auto-classification, so when you scan a document, it figures out which virtual folders and physical folder it belongs to.
Document management should not be limited to physical documents. Indeed, these same basic operations are useful for email, even text messages and so forth. Eventual integration with the Audience system ensures that all communications are indexed in this fashion.
It will also be an e-book bookshelf, and interfaces with the CLEAR document reader and intelligent tutoring system.
In short, the system is very capable.
Status
The paperless office, having many advanced features, relies on a large collection of software called the FRDCSA. Unfortunately, for historical reasons, the system has never been released to the public. It is a rather non-trivial task, however it is underway and many important subtasks have been completed. You can help the release by purchasing a trial support license for the Paperless Office. By making this purchase, you would not only be supporting the release of the Paperless Office, but you would be altruistically supporting the release of the entire FRDCSA system, as the Paperless Office requires it. Once that system is released, there will be little need for future similar efforts, as it is free software, and the uses will be evident.
In order to purchase a trial support license, please send email to Andrew Dougherty (andrewdo@frdcsa.org) and CC (andrew.j.dougherty@gmail.com). Please include a subject of "PAPERLESS-OFFICE TRIAL SUPPORT LICENSE". The fee is $100 or whatever you choose to pledge. Convince a few friends, and that will raise enough money to release the whole system, after which the benefits will be available to all.
Here is the source code. Good luck, hahaha! paperless-office.tgz